The Takashi Nagai Memorial Nagasaki Peace Award
About the Award
Eligibility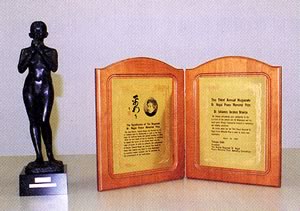 This award is given every other year to individuals or organizations in Japan or
abroad who have contributed to world peace through the development and improvement of medical care and welfare of radiation exposure victims and are
expected to play an active role in the fields of medical care and research on
victims of atomic bombings and radiation exposure in the future.
---
Recipient Screening
Candidates recommended by scholars, experts, and other individuals as well as universities, research institutes, academic societies, local governments, and other organizations in Japan and abroad at the request of NASHIM are screened by a selection committee of academic experts, then selected as award recipients by the Nagasaki Dr. Nagai Peace Memorial Prize Committee, which consists of experts from a variety of fields.
---
About Dr. Takashi Nagai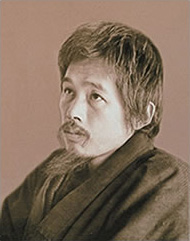 Takashi Nagai
1908 – 1951
Takashi Nagai was born in the city of Matsue in Shimane Prefecture and worked as a physician and atomic bombing writer.
He graduated from Nagasaki Medical College in 1932 and specialized in radiology as a teaching assistant. He was sent to war as a cadet during the Manchurian Incident and, upon returning to Japan, was baptized as Catholic and married Midori Moriyama.
He was sent to battlefields across China as a military physician during the Sino-Japanese War before returning to Japan in 1940.
He became an associate professor at Nagasaki Medical College and head of the Physical Medicine Department in the same year, but developed leukemia and, in June 1945, was given three years to live. On August 9 of the same year, he suffered serious injuries when the atomic bomb was dropped on Nagasaki, its epicenter 700 meters from the university where he was working. His bleeding was so profuse that a fellow professor of surgery operated on him atop a hill, and it is said that Dr. Nagai, whose expression remained unchanged despite the lack of anesthesia, appeared truly sublime and noble.
After his surgery, Dr. Nagai led the charge in rescue efforts for the many injured. On August 9, his wife Midori, trapped in their collapsed house and unable to escape, burned to death. His two children, who had evacuated to their grandmother' s house in Mitsuyama during the war, were safe.
In 1946, he became a professor, but collapsed from leukemia and began writing a memoir of the atomic bombing from his sickbed.
This was published in the Tokyo Times, and he wrote numerous works including The Rosary Chain, Leaving These Children Behind, The River of Life, The Bells of Nagasaki, The Flower-Blooming Hill, and My Precious Child as a continue prayer and plea for peace.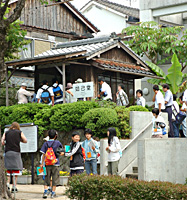 Moved by his writing, many people came to visit him at his sickbed. His Majesty the Emperor paid a visit, the Roman Pope sent an special envoy, and even Helen Keller visited him in 1948.
He was chosen as the first honorary citizen of Nagasaki and also received an award from the Diet. The Bells of Nagasaki (1950), a film by Shochiku filmed at the Nyokodo Hermitage where Dr. Nagai resided, moved the hearts of many citizens.
He died of myeloid leukemia at Nagasaki University Hospital on May 1, 1951, and his funeral was held in the city of Nagasaki on May 14.
Timeline of Dr. Takashi Nagai' s Life
February 3, 1908: Born in the city of Matsue, Shimane Prefecture, the moved to Tetsuishi Village (currently the town
of Mitoya) in the Iishi District the following year.
March 1932: Graduated from Nagasaki Medical College.
June 1932: Assistant at Nagasaki Medical College, Department of Radiology
April 1940: Became associate professor at Nagasaki Medical College and head of the Physical Medicine Department
March 1944: Attained doctorate.
June 1945: Diagnosed with leukemia and given three years to live.
August 9, 1945: Severely injured in the atomic bombing with severing of the right temporal artery, yet volunteered in rescue efforts
January 1946: Appointed professor at Nagasaki Medical College
November 1946: Gave a lecture on "Atomic Disease and Atomic Medicine" at the Nagasaki Medical Society
March 1948: Completed construction of Nyokodo Hermitage, where he moved.
October 1948: Received a visit from Helen Keller.
May 1949: Received visits from His Majesty the Emperor and a special envoy of the Roman Pope
December 26, 1949: Bestowed the title of Honorary Citizen of Nagasaki (the first).
May 1, 1951: Admitted to Nagasaki University Hospital and died at 9:50 pm (age 43).
May 14, 1951: Public funeral held in the city of Nagasaki, buried at Sakamoto International Cemetery.